The Sims Transmogrifier Documentation
---
Links: [Home] [Tutorial 1] [Glossary] [License]
---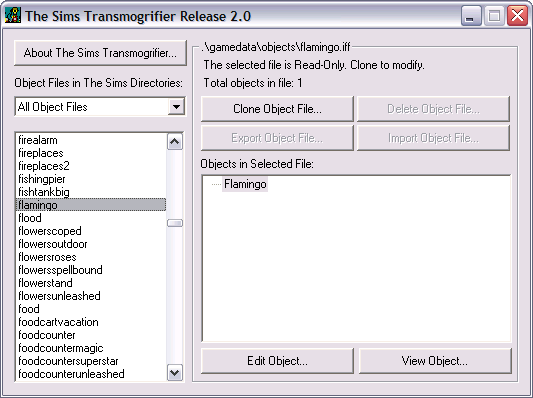 The Sims Transmogrifier is a tool that lets you clone an existing object in The Sims, and edit its name, price, description and sprite images. The graphics are exported as BMP files, which you can edit with a painting program like Photoshop or Paintshop Pro. Once you edit the pictures of the object, you can import them back into The Sims.
Please make sure you have downloaded the latest version of Transmogrifier from http://www.TheSimsTransmogrifier.com/TransmogrifierDownload.htm, are that you are reading the latest version of the documentation at http://www.TheSimsTransmogrifier.com/TransmogrifierDocumentation.htm. You're invited to check out the Transmogrifier Home Page for more information!
---
What Transmogrifier Is
Transmogrifier is simple tool that enables many people to create their own content for The Sims. Like SimShow, it is limited in scope, so that it's easy to use.
Transmogrifier lets you edit the text of the catalog product description, change the price, and most importantly it exports and imports all of the sprite images, so you can edit them with paint programs like Photoshop or Paint Shop Pro.
---
What Transmogrifier Is Not
Transmogrifier is NOT SUPPORTED by Maxis or Electronic Arts!
Please do not ask anyone from EA or Maxis to help you, add features or fix bugs. If you need help or are having problems, first make sure you have the most recent version, then please read the entire documentation. If you are interested in contracting for support, tool or content development, please contact the author.
There are a lot of things Transmogrifier can't do, because it was written to solve one particular problem. There are other heavy-duty tools for producing content that are harder to use.
Transmogrifier is not a 2D image editor. It simply writes out a bunch of 2D bitmap files which you can edit with any 2D image editor, like Photoshop or Paint Shop Pro.
Transmogrifier is not a 3D graphics editor, and it doesn't read or write any kind of 3D polygon mesh, just 2D bitmaps.
Transmogrifier is not a behavior editor. The behavior of people and objects are programmed in a special purpose visual language called "SimAntics", which is a part of "Edith". Edith enables programmers to modify the behavior and change the state of the game. Edith is just a special version of The Sims, that's compiled with lots of extra editing features and cheats, objects browsers, property dialogs and behavior tree editors. It will be released separately, once it has been documented, but will not be supported by Maxis or EA. It will enable sufficiently determined people to program people and objects, and understand the internal behavior of The Sims.
Transmogrifier is not an industrial strength product. If you need to produce large quantities of professional content for The Sims, you are better off using more advanced tools than Transmogrifier. It's totally unsupported by Maxis and EA, and not designed to support a heavy workflow, or even real 3D content, but you can try if you want.
You can't use Transmogrifier to edit slots, tree tables, sounds, headlines, conversation topics, water tiles, floors, walls, wall styles, wall patterns, cutaway walls, thick walls, cutaway thick walls, user interface bitmaps, raw resources, characters attributes, character bodies, character skins, character animation, house properties, interpersonal relationships, or family histories. But future versions of Transmogrifier and other tools will extend the XML file format to export and import all kinds of data from The Sims.
---
Tutorials
Goal: Clone the Pink Flamingo ( ), and mutate it into a Green Flamingo ( ).
---
References
Definitions of words and phrases that you should understand in order to use Transmogrifier.

Limited Use Software License Agreement for The Sims Transmogrifier.
---
Thanks To
Will Wright (Maxis)
Lucy Bradshaw (Maxis)
Heather Castillo (SimFreaks)
Chris Baena (Maxis)
Sinjin Bain (Maxis)
Sean Baity (Maxis)
Patrick Barrett (Maxis)
Luc Barthelet (Maxis)
Jeff Charvat (Maxis)
Philip K. Dick (The Three Stigmata of Palmer Eldritch)
Stanislaw Lem (Cyberiad)
Scott McCloud (Understanding Comics)
Bill Simser (Blueprint)
---